In-Person Appointments
Due to Covid-19, only distance appointments are being accepted.
Hours of Service (Central Time)
11:00am - 6:00pm on Tuesday through Friday.
10:00am - 4:00pm on Saturday.
We are closed on Sunday and Monday.
Schedule an Appointment
To schedule an appointment for a private energy healing session, please call us at 920-993-1122, which is the phone number for both Apex Energy Masters and Mystical Earth Gallery.
First appointments will only be booked with your credit card information on file (or with cash if you book in-person). If you choose to make subsequent appointments, you may pay for those with cash or credit card when you arrive for your scheduled appointment .
Arriving for your Appointment
We suggest you arrive at Apex Energy Masters 5-10 minutes ahead of your scheduled appointment. If you are late for your appointment, this missed time will be considered part of your session and the session will not extend beyond the scheduled block of time for your appointment.
24-Hour Rescheduling/Cancellation Policy
If you need to cancel/reschedule a session, we ask that you please contact us 24 business hours before your scheduled time. For example, if your appointment is at 2:00 pm on Thursday, you would need to call us before 2:00 pm Wednesday in order to not be charged for your session (in the case of a 2:00pm Tuesday appointment, you would need to call us before 2:00pm on Saturday, since we are closed for business on Sunday & Monday) .
This allows us to serve the needs of our clients more efficiently. We thank you in advance for your understanding and cooperation. If a client is no-show or does not give minimum of 24-hour notice for rescheduling/cancellation, full payment of said appointment will need to be paid in full before any other appointments will be scheduled.
Location
Apex Energy Masters is located at 220 Main Street, downtown Menasha. Please see our driving directions page for directions on how to get to downtown Menasha.
Parking
On-street parking is available on Main Street, or take advantage of the parking lot behind our building on Broad Street.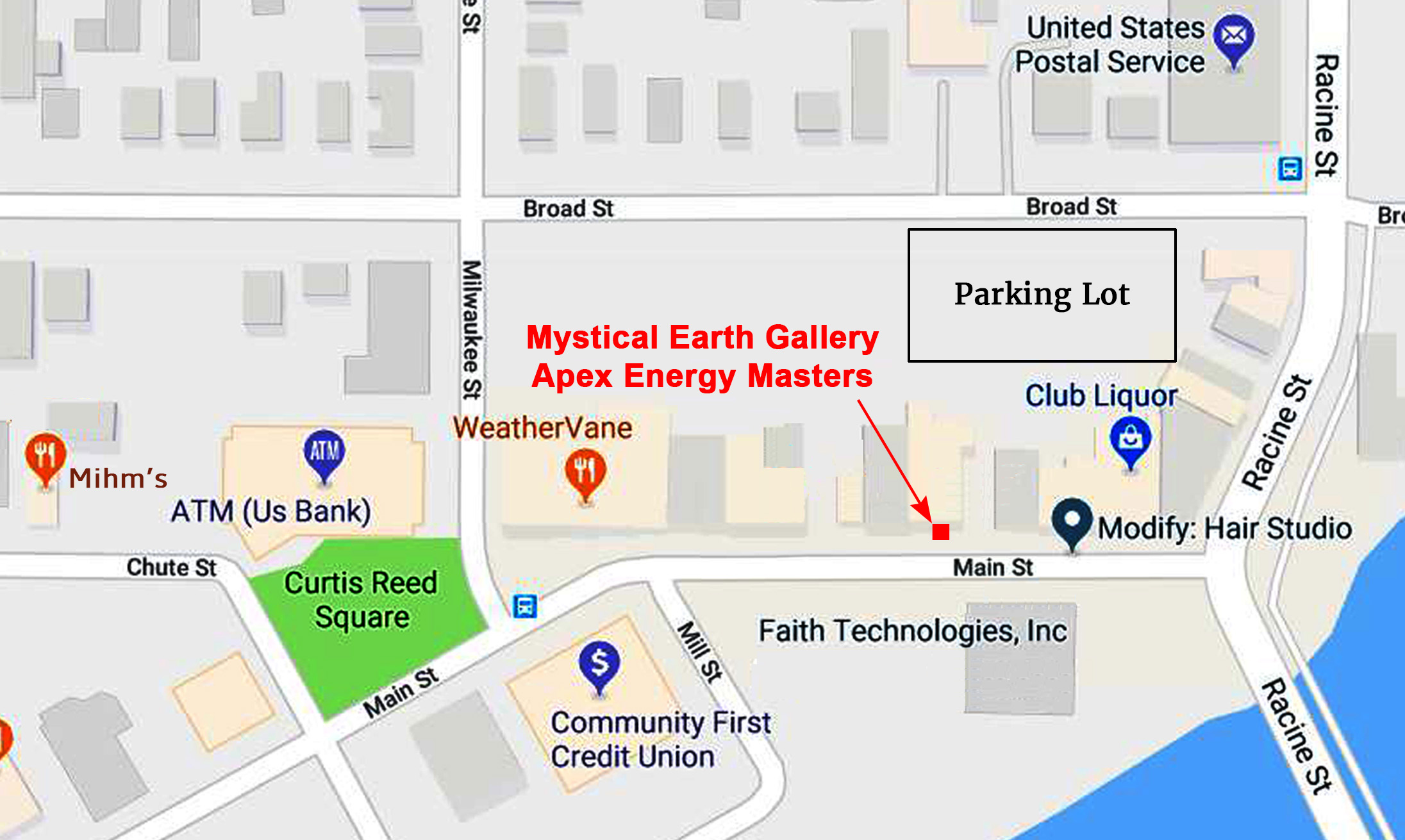 « Previous